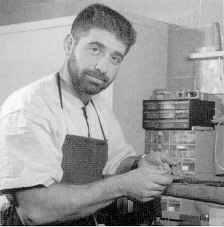 Stelios Chrysochou, the founder of SC Gunworks, Inc., was trained in Canada as a gunsmith in the gunsmithing department of Hallam's Sporting Goods Ltd., one of Canada's oldest (established 1866) and largest gun shops in Canada.
From 1986 to 1996, Stelios managed the gunsmithing and gun repair department of Hallam's as its master gunsmith.
We Believe:
When building a custom firearm, we need to take into consideration its primary purpose, as well as the owner's character, needs and desires.
With these in mind, we will devote our energy and talent to create a distinctive, flawlessly functioning, and accurate firearm.
The attention to detail that we endeavour to achieve is realized in the degree of excellence of the finished product.
Services Include:
Repair and maintenance
Custom modification to rifles, shotguns, and pistols
New stocks designed and built for your target gun or your Purdey and everything in between
Rebarreling services
Custom built safari rifles or target rifles
Extra fine checkering
IPSC and PPC complete services
Rust bluing
And many other services